SOONER VETERINARY HOSPITAL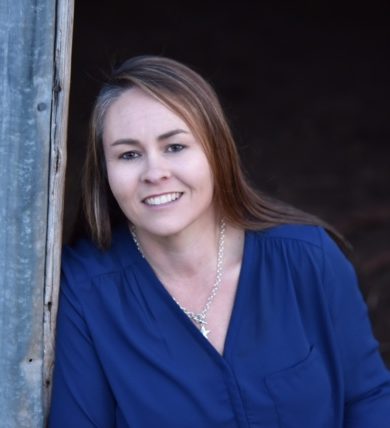 Jennifer Schoonover, DVM
Veterinarian/Owner
Dr Jennifer Schoonover grew up on a small farm in Northeastern Oklahoma where her family raised beef cattle. Throughout junior high and high school she was very active in youth rodeo. She attended Oklahoma State University where she received a Bachelors of Science degree in Animal Science in 1997 and her Doctorate of Veterinary Medicine in 2000.
Her first year as a veterinarian was spent in rural Ohio in a mixed animal practice while her husband, Dr Mike Schoonover, completed an equine internship. They returned to Stillwater in 2001 after Mike accepted an equine surgery residency at their Alma Mater. During this time, Dr Schoonover engaged in a variety of different veterinary medical endeavours including full-time private practice, part-time relief work, low-cost spay/neuter programs and teaching anaesthesia methods to veterinary students at OSU. In 2004, Dr Schoonover and her husband relocated to Lexington, Oklahoma. Her relief practice led her to Sooner Veterinary Hospital where, following a short temporary position, she practised as an associate veterinarian for 10 years. In January of 2015, Dr Schoonover purchased Sooner Veterinary Hospital from Dr Donald Russell. She has been an OVMA member for 16 years and is currently very involved, participating on committees and organizing events such as the Oklahoma State Fair birthing centre and surgical suite.
Jennifer and Mike have 2 sons, William and Garrett, that are active in many sports along with their local 4H program where they have taken an interest in showing goats. As an avid OSU fan, Jennifer enjoys all OSU sporting events when not working or involved in her son's activities.
David Morales, DVM
Veterinarian
Dr. Morales was born and raised in Oklahoma City. He has been working in the veterinary profession since 1982. Graduating from Putnam City High School in 1984, he went on to earn a BS in Biology and secondary education from Southern Nazarene University in Bethany, OK in 1988, and earned his Doctor of Veterinary Medicine Degree from Oklahoma State University in 1996.  Following graduation from Veterinary School, he served as an associate veterinarian for 9 years in a small animal practice in NW Oklahoma City before joining the faculty of the veterinary technician program at Oklahoma State University-Oklahoma City in 2006, attaining the rank of associate professor and awarded tenure. While teaching, Dr. Morales continued to practice veterinary medicine part-time at a small animal practice in Moore, Oklahoma.  Dr. Morales returned to a full-time veterinary practice in September 2015 when he joined the staff at Sooner Veterinary Hospital. His interests in veterinary medicine are kidney, liver, and heart issues as well as client education.
When not at the clinic, Dr. Morales enjoys spending time with his wife, Rachel, also a veterinarian, their 3 children, taking photographs, playing tennis, camping, and boating.
He is also involved in many church activities. Dr. Morales has 2 sphynx cats, 2 dogs, a hermit crab, a hissing cockroach and many tropical fish.
Karla Denton, DVM
Associate Veterinarian
Dr. Denton wanted to be a veterinarian ever since she was six years old. She grew up split between Dallas, TX and St. Croix, US Virgin Islands. She attended college at Texas A&M University where she earned a Bachelor's degree in Poultry Science and went on to earn a Master's degree in Veterinary Microbiology. With these degrees in mind, she attended Ross Veterinary School with the hopes of moving to Georgia to specialize as a poultry veterinarian. Plans changed after she met her future husband on a misadventure in Norman on Christmas break. Dr. Denton chose to finish her clinical year at Oklahoma State University in Stillwater, OK. Dr. Denton now lives in Norman, with her husband and their two children on a ranch where they raise Belted Galloway cattle. In her spare time, Dr. Denton likes to ride her horses either on the trail or in the dressage ring. She has a plethora of other animals, which include, but is not limited to chickens, pigs, barn cats, a goat, and one very small indoor-only litter box trained bunny rabbit.
Blythe Knickmeyer, DVM
Associate Veterinarian
Dr Knickmeyer was born and raised in Tulsa, OK. She first landed in Norman during her 4 years of undergraduate study. During this time, she received her BS degree in Zoology and met her husband, a Norman native. Following graduation from OU in 2014, Dr Knickmeyer temporarily traded in her crimson and cream for orange and began pursuing her DVM at Oklahoma State's Center for Veterinary Health Sciences, during which she split her time between Stillwater and Oklahoma City. She proudly graduated with her degree in the spring of 2018.
Dr Knickmeyer and her husband are excited to be back in Norman and she looks forward to serving the clients and pets of her community beginning November 2018. She and her husband now live on 10 acres in Norman with their twin daughters, Pyper and Evelyn along with their mutts, Chloe and Murphy.
Her hobbies include reading, hiking, and camping. Dr Knickmeyer's special interests include preventative medicine and client communication and she looks forward to being a part of the Sooner Veterinary Hospital team!
Brandi Hunter, RVT
Registered Veterinary Technician
Brandi grew up on a farm in Maysville, Oklahoma. She was active in basketball and track throughout high school and started barrel racing after graduating from high school in 1999. After high school, Brandi attended Murray State College in Tishomingo, Oklahoma majoring in the applied science discipline of veterinary technology. She graduated in 2002 and then obtained a license to become a Registered Veterinary Technician.

Brandi has worked in several mixed animal practices, but really enjoys interacting with and treating small animals. She originally began working at Sooner Veterinary Hospital in 2006 and left to further her college education in 2012. She still lives on the family farm and enjoys country life.
In her spare time, she likes to spend time with her family and friends. Everyone at Sooner Veterinary Hospital is very glad to have Brandi back working with us and hope her tenure will continue for many years to come as she has a lot to offer our patients and clients.